Left to Right: Lazy Susan, Dipper, Wendy (back), Mabel (front), Gruncle Stan
When we decided to trek to NYCC this year, we figured we would go hard or go home! We binge-watched Gravity Falls on rainy summer days and I had already picked up some pieces for a Back to School picture shoot that was brewing in my head. From there, our family cosplay idea was born. We had a great time putting our outfits together and this DIY was fun and inexpensive! For my entire family of five's costumes I only spent $120 out of pocket ($24 each!) I scoured Amazon, a couple craft stores, and a local thrift shop.
My husband and I were Susan and Stan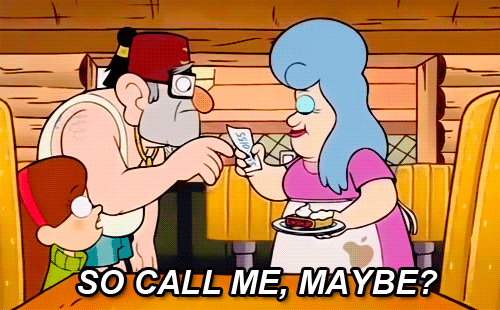 The kids were Dipper, Mabel, and Wendy
1. Stan
My husband wore black casual pants and a white dress shirt (both staples found in his closet). We decided to forgo the ribbon tie and used a red lanyard for his NYCC pass instead. This just left accessories. Hubs classes are similar in shape to Stan's so we focused on his cane and fez. I bought a cheap walking stick, and a foam ball which I painted like an 8 ball and crazy glued in place of the walking stick handle. I had trouble with shipping timelines or I would have just ordered an 8 Ball squishy and saved the painting time.
2. Susan
For my Lazy Susan costume, I knew that it would be too cold for dress and I would be rocking leggings underneath and I also knew I could not sustain a wig or grey spray color so I decided to just lay it on thick with her crazy blue eye shadow, tease my hair, and use a half apron I had already. What I really needed was her dress and I found the perfect on on Amazon (with prime shipping available)!.
Here are my ShopLooks for our adult styles:
3. Dipper
For the kids I decided to double their purchases as back to school clothes where I could. We had already owned a Dipper Pines trucker cap from a recent trip to Disney World and my son already owned grey shorts. I ordered him a nice quality (and $6) tee from Amazon, and purchased a good quality Columbia fleece vest (both to be used for school).
4. Mabel
My eldest daughter was Mabel for Halloween last year so we already had this one down. I had painted a plan pink Hanes sweatshirt with her signature shooting star sweater design, we ordered a cheap purple pencil skirt from Amazon, and she paired it with crew socks, ballet flats, and a pink headband. My younger daughter reused much of this but I double checked costs and it is still just as affordable!
5. Wendy
As for another double up on school clothes cosplays, Wendy's outfit entirely worked for my older daughter. We purchased a similar style flannel and a crazy winter hat and she paired it with chocolate brown Ugg boots, and her AE skinny jeans. Voila!
Here are the links to the kids ShopLooks :
We had a great time putting these together. It was great to get our teen to dress up with us, as this was her first year officially not dressing up for Halloween, and the younger littles were not very enthused that they would not be trick-or-treating with us (its a swapped holiday between my husband and his ex-wife) so they got to dress up with us for the event. A nice unintended side effect was how dressing up together for NYCC took some of the anxious pressure they were putting on themselves away- all three kids relaxed a bit about their previously vocalized stress about Halloween once we had our cosplay experience together.
It just goes to show that there is nothing better than making memories with your family. Even if you are up until 1am painting a fez the night before a trek to the city for comic con!